Welcome to Shurik's page !

SHANS BIZHU EMAIL TO ZORCON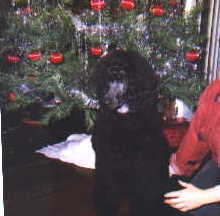 My new boy in front of the Christmas tree. 12-15-01

Enjoying one of his new Toys!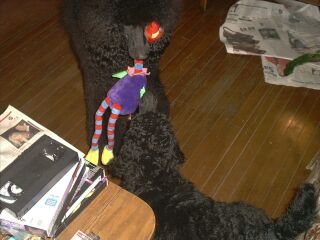 It's mine......I say!!!!!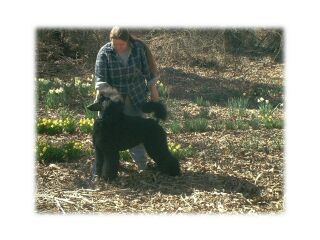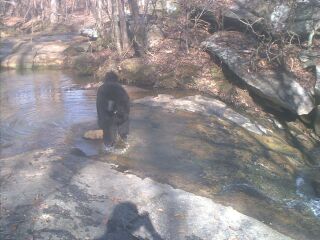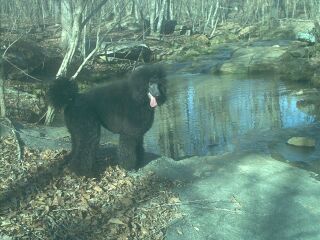 ---
Introducing the newest member of my Poodle family........
SHANS BIZHU EMAIL TO ZORCON................my SHURIK!!!!!!
After much research, many, many hours spent at the computer I found the Russian Internet Poodle Magazine, while there I read the portrait (story) of Ch. Zhu-Zha Bizhu Glad and knew I wanted my next Standard to be from this line of Standard Poodles, after contacting Kennel Shans Bizhu and asking a zillion or more questions (which were all graciously answered!!!).............I asked to obtain a black male from their next litter, thus I am now the proud owner of Shurik!!!!!!!!
He made the long flight to the USA with friends of his breeder......Lee & Ljuba Avrashov, many THANKS go to them for agreeing to help get my puppy safely to me. He arrived safe and sound although his breeder and I worried ourselves silly over the long trip !!
Many THANKS go to Lidia Egorova and her mother for producing this wonderful puppy!!! I enjoy him more and more each day :) He has already stolen my heart!!!!
A link to his pedigree is here. His COI is 4.759% with 86% of his ancestors found in a 10-generation pedigree. He is from healthy Top winning and producing lines.
vWD clear,current CERF #, SA and OFA prelims soon.........................
---
Shurik in Russia.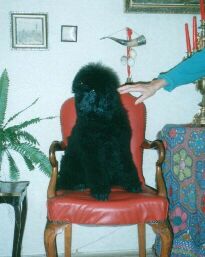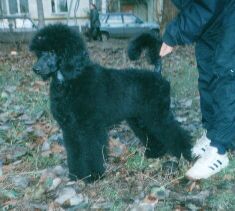 The handsome Shurik at his home in Moscow.
---
FAMILY PORTRAIT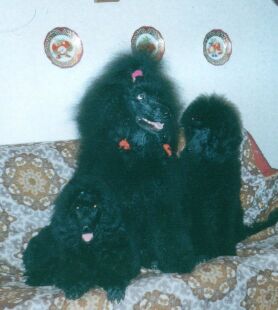 His lovely sister May, their beautiful Mom Babetta and the handsome Shurik, all posing for a wonderful family portrait.
Thanks so much for sharing these great pictures with me, Lidia, now everyone can see them.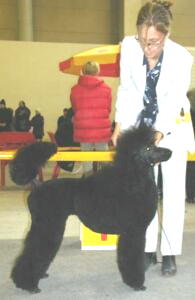 We CONGRATULATE Ch. Shans Bizhu Eva May on her new Championship...........way to go sister!!!!!!!!!!
---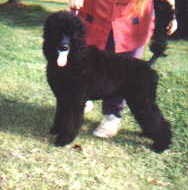 Quite a difference the temperature makes........first picture with me!12-7-01
He left snow and below freezing temperatures in Moscow to arrive in Laurens, South Carolina to a mild sunny 75 degrees!!!!More pictures to come....
---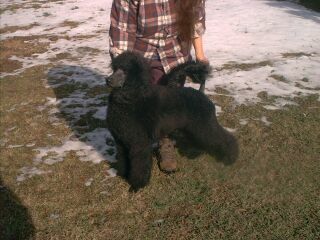 Click on the thumbnails to see pictures, use back button to return.
Having fun :-) Enjoying the snow!
More pictures!
Springtime!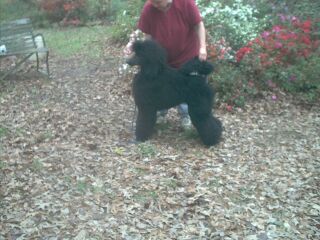 Let's go !!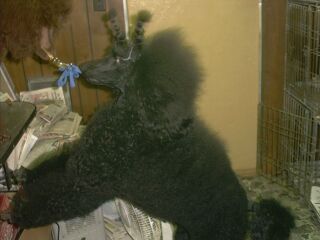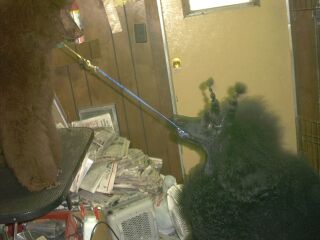 Come on!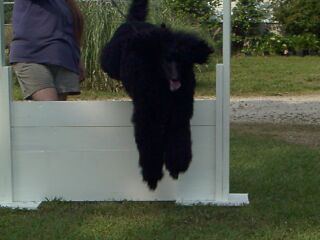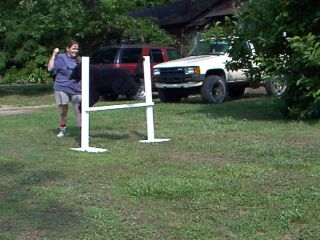 New fun :-)
Shown below in his new trim!!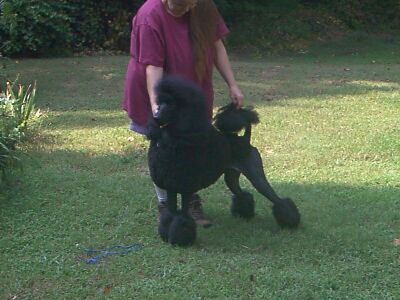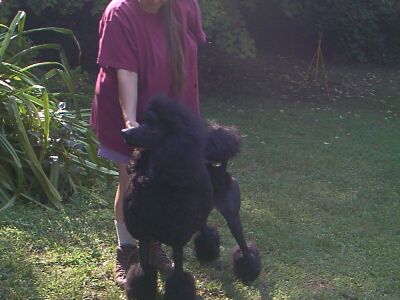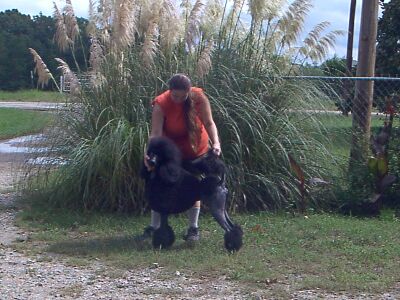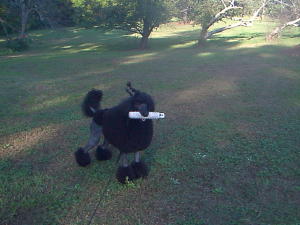 More new fun...................duck hunting!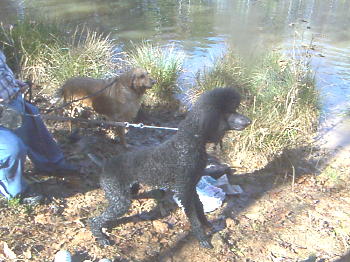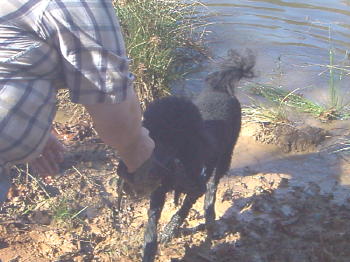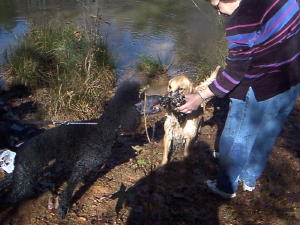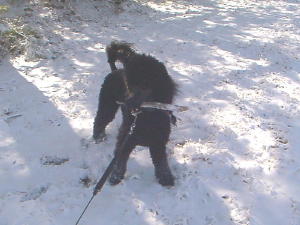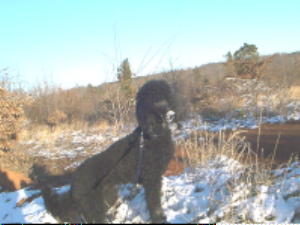 Enjoying 2003 snow!!!!!!!!!!!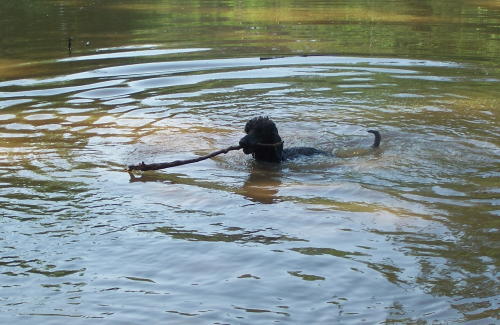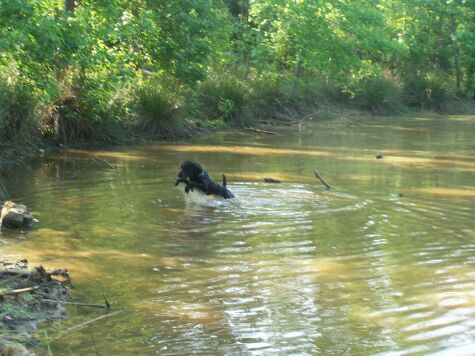 2007 in the pond :)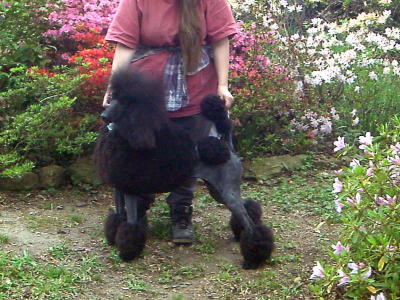 Shurik daughters..........Natasha and Nadia.
Zorcon Poodles
322 Starfrost Rd.
Laurens, SC 29360 USA